The GNOME desktop environment comes installed with Fedora Workstation. GNOME hackers have continued to refine it over several years. However, not all third party software providers update their apps accordingly. Some software providers still make use of outdated status bar icons for their apps, for instance. It's nice to be able to move status icons for these apps to the GNOME top bar. Often these apps are proprietary but popular, including:
Google Chrome addons like Hangouts
Google Music Manager
DropBox
Skype
However, there are also free and open source apps with the same issues. These apps haven't been updated to use newer features when installed in a GNOME environment like Fedora Workstation.
An app that uses these status bar icons appears in a "drawer" at the lower left of the GNOME screen. You can pop open this drawer by moving your mouse to the lower left of the screen to open the drawer.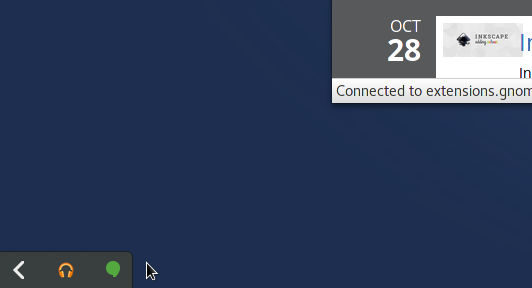 This presents the user with a difficult choice. Should you leave the drawer open, cutting off part of your screen? Or should you close it and miss seeing some indications on icons in the drawer? Fortunately, you don't have to choose between these options. There's another solution, the TopIcons Plus extension for GNOME Shell.
The TopIcons Plus extension can move status icons to your GNOME Shell top bar. The icons then appear next to your other standard icons such as network status. Now you can see these status icons without using up screen real estate, or having to remember to open a drawer.
To install the extension, open Firefox and navigate to the TopIcons Plus extension page. Use the On/Off button to install the extension to your personal environment.
If you have apps installed that use status icons in the drawer, you'll now see them in the GNOME top bar. You can use the same mouse actions on them as in the drawer.
However, the way these icons use the mouse may not be the same as standard GNOME status icons. Just keep this in mind as you work with them, and understand this is due to the software provider, not GNOME.
---
Image courtesy of Kaleb Nimz — originally uploaded to Unsplash as Untitled.