Email is used by the vast majority of Internet users. Although increasingly users access their mailboxes through web browsers, desktop client applications are still popular. Their biggest advantage is desktop integration. They can send notifications about incoming messages, work offline, call other helper apps, and more. What are the most popular desktop clients you can find in Fedora?
Thunderbird
One doesn't even have to introduce Thunderbird. It's the most famous open source email client. It was created by the split of the Mozilla suite into a browser (Firefox) and email client (Thunderbird). In 2012, Mozilla handed over the development to the community. At the end of 2014, Mozilla announced they would decouple development of Thunderbird from Firefox to focus more on browser development. A lot of users understood this announcement as abandoning Thunderbird completely, but that's not the case.
Pros:
Multi-platform
A broad selection of extensions
Instant messaging integration
Very good IMAP support
Cons:
Other groupware tasks only covered by extensions
Doesn't support Microsoft Exchange very well
Suboptimal integration into desktop environment
Who is it for? A general purpose app that works well in all desktop environments. You'll like it especially if you need to work on several OSes.
Thorsten Leemhuis, Fedora packager and former FESCo chair, is using Thunderbird and here is why:
Thunderbird does the job for me. It could be easier and more beautiful. It also has quite a few rough edges I needed to get used to; some I was able to work around by adjusting the configuration or by using extensions. But in the end Thunderbird suits my needs better than all the other clients I looked at in the recent past. Thunderbird for example handles multiple identities properly (with the help from the extension "Folder Account"), which is quite important to me. By using the extension "QuickFolders" I can quickly navigate between all my important IMAP folders. Enigmail, just like Thunderbird, could need some polish, but it handles PGP fine. In the end I'm not completely satisfied with Thunderbird, but it most of the time just works; that's important to me, as I handle hundreds of mails every day.
Evolution
Evolution also doesn't have to be introduced to Linux users. It's less well known by users of other OSes because, unlike Thunderbird, it's not multi-platform. It's a groupware client, meaning besides email it can also handle contacts, notes, tasks, calendar. Evolution has been developed for more than 15 years in the GNOME project. It's the default email client in Fedora.
Pros:
GNOME integration
Probably the best MS Exchange support on Linux
Covers other groupware tasks
Cons:
IMAP support not as good compared Thunderbird
Who is it for? Evolution is an ideal solution for those who also want calendaring, task management, and other functions besides email. If you need to connect to an Exchange server, it's probably the only reasonable option on Linux.
Peter Robinson, Fedora release engineer, is using Evolution and here is why:
I use Evolution because it's generally stable, integrates well with the GNOME Shell for notifications, has integrated calendar and contacts and integrates well with a number of service providers for mail, calendar and contacts such as Microsoft Exchange (old job), Google contacts/calendar, and corporate standards such as iCal. It's not perfect but the maintainers are responsive when I report bugs
Geary
Geary is the youngest client in this overview. The Yorba Foundation started developing it in 2012, and iIt's now maintained by the GNOME Community. Geary has a modern interface which is focused on popular email services, mainly Gmail, and is inspired by them. For instance, it adopted the conversation view of Gmail.
Pros:
Simple interface and configuration
The most similar client to web services like Gmail
Good GNOME integration
Cons:
Missing advanced features (e.g. filters)
Who is it for? Do you use Gmail and would you like to try a desktop client? Geary is the closest desktop client to it.
Jakub Steiner, member of Red Hat's desktop team and GNOME designer, is using Geary and here is why:
Geary does a good job focusing on the essential workflow, providing a mean to quickly sort through the inbox, and keep conversations grouped. While not perfect it does a reasonable job reusing the same patterns established in GNOME3. Difficult choices have been made. Somebody relying on POP/heavy client side filtering will be disappointed, but to me it's the closest thing to calling a free software mail client elegant.
Kmail
Kmail is well-known mostly among KDE users, with a history almost as long as Evolution's. It has lost some of its popularity recently, as seen on the poll results. Users complain about lagginess and high system requirements of the Akonadi backend. But Kmail also has advantages, since it has a lot of advanced features, and is easily extendable to a full-fledged groupware solution, Kontact.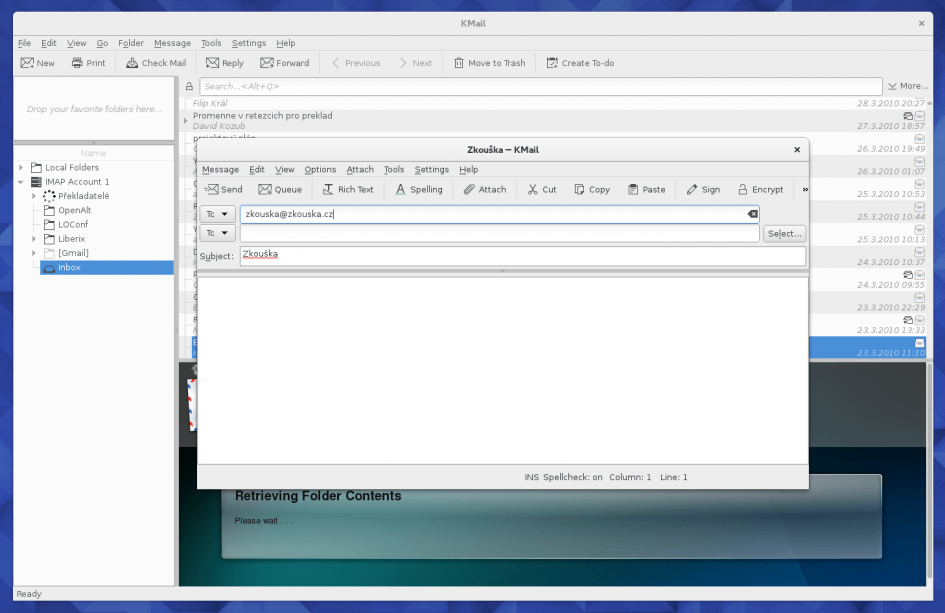 Pros:
A lot of features and configuration options
Extendable to a full-fledged groupware solution, Kontact
KDE Plasma integration
Cons:
System resource requirements of the Aconadi backend
Installation of Kontact floods the lists of apps with 13 launchers
More difficult account setup compared to Thunderbird and Evolution
Who is it for? Do you use KDE Plasma and want complete control over email and setup for everything? Kmail is the best option for you.
Sylvia Sanchez, a member of Fedora Marketing and Design teams, is using Kmail and here is why:
Well, first because it isn't mandatory to setup Kmail in order to use Kontact. It is in Evolution. Second, because Kmail has a wizard that configures everything automatically fetching info from Mozilla. While it is a bit tricky on certain things it's still handy. Third, Kmail integrates very well with other desktops; it's not KDE exclusive. Fourth, because what I use more is the calendar/to-dos part. On that side I prefer by far Kontact because its Summary view. I can see everything at a glance and if there's any new email I'll see it there. Fifth, is less Outlook compatible oriented. Sixth, is more flexible and less intrusive.
Mutt
Mutt has been the most popular command-line email client among Linux users. But it's not very friendly to novice users. The user base is generated mostly from power users who spend a lot of time in the terminal. You can navigate through Mutt using only the keyboard. You compose messages in an external editor, which is a big plus for users accustomed to effective command-line text editors such as Vim and Emacs.
Pros:
Fast with low system resource requirements
Doesn't require a graphics stack
Completely navigable by the keyboard
Message composing is left to your favorite editor
Cons:
Not as user friendly as graphical clients
Unintuitive settings through commands and configuration files
Who is it for? If you spend most of your computer time in the terminal, why use a graphical client? Mutt can do the same job with fewer resources and it's configuration is virtually unlimited.
Matthew Miller, the Fedora Project Leader is using Mutt and here's why:
1) I come from a sysadmin background, where I lived in terminal windows. My FPL job doesn't need that, but I kind of like to retain that connection. 2) I have extensive customizations, filters, scripts, and everything, which I've been using for… twenty years, since I stopped using elm. It'd be a pain to migrate all of those! 3) I actually use it directly on the server where I get my mail, and it can work with local mail folders directly, so no IMAP or anything like that to manage or worry about – and no synchronization problems. It's the "cloud" advantage of access-from-anywhere, just like webmail – except a little more "texty". 4) Since it's a console tool, it integrates seamlessly with my preferred editor, joe.
Claws Mail
Claws Mail is an email client written in GTK+ that's been a bit hidden in the shadow of Evolution. But it has a loyal community and user base it's been serving for almost 15 years. It started as a fork of Sylpheed, which is also still alive, but Claws Mail has more active development and seemingly more users, too. Both are conservative desktop clients with lower system resource requirements, so they're often used in Linux distributions for older computers.
Pros:
Low system resource requirements
Fairly good selection of extensions
Cons:
Too conservative user interface
Cannot view HTML messages without an extension
Who is it for? Do you still use email the same way like 15 years ago? You don't understand how an email client can consume several hundred MB and still be slow? You will like Claws Mail.
Andrew Clayton, a Fedora user and kernel contributor, is using Claws Mail and here is why:
I like to think of it as a graphical Mutt. It's nice and configurable, has good IMAP support. It just looks a like a good traditional mail client (it doesn't try to simplify things and it doesn't try to be flashy). I like the MH format (each mail message stored in its own file) it uses.
Alpine
Like Mutt, Alpine is a command-line client. It was created in 2007 as a replacement for Pine, whose development was stopped and whose license was changed to freeware.
Pros:
Fast with very low system resource requirements
Doesn require a graphics stack
Completely navigable by the keyboard
Easier interface and configuration than Mutt's
Cons:
Although simpler than Mutt still not as user friendly as graphical clients
Fewer features and configuration options compared to Mutt
Who is it for? Do you also spend most of your computer time in the terminal, but Mutt is too complex for you? Try Alpine!
Others
This has been an overview of the most popular email clients among Fedora users. But it's definitely not a complete list. Fedora offers other interesting alternatives. For instance, Trojitá, written in Qt, has very good and fast IMAP support, but has limited features. You can also use the email client in Seamonkey, which is a fork of Mozilla Suite. You can also try Sylpheed. Emacs fans should try Mu4e that is an email client based on Emacs using mu as a backend. N1 by Nylas brings an interesting approach: it moves most of the client logic to the server, and only runs a thin client locally. You won't find N1 in Fedora repositories yet, but you can install it on Fedora.
What email client do you use and why?
---
This post was originally published in January 2016